Expansive Yogi is a movement that offers a holistic approach to life.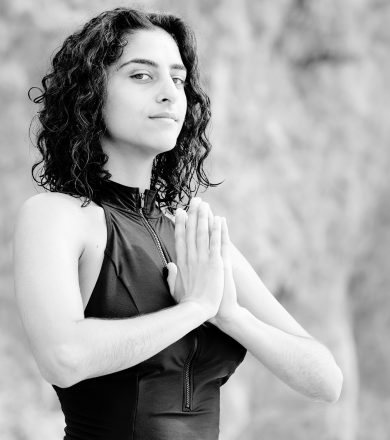 My name is Auzar and I am so grateful to be of guidance, support, and wisdom in this beautiful journey we call life! Growing up, I was never taught the importance of tuning inwards and seeing what my body really needs. I felt disconnected from myself, and with that, my emotions and thoughts were completely discordant. As I've evolved, I've learned to bring more awareness to the parts of myself that have been more suppressed. This, in turn, is where I have discovered my latent gifts, along with my calling to help others live in harmony with their mind and body.
My intention is to activate healing on an emotional, mental, and physical level. I want to empower you to live a reality that is free from negative self-thought, emotional density, and physical dis-ease; and instead, a reality that is full of empowering thoughts, emotional clarity, and vibrant health.
Life experiences shape our mind and body to function a certain way: As our minds become conditioned to think a certain way, our bodies also grow conditioned to function a certain way. My mission is to help you de-condition unhealthy thought patterns, heal through emotional wounds, and reintegrate your spirit with your body.
"Auzar has this way of being that simply speaks to my soul. The tender, yet fierce, presence that Auzar holds provides ample opportunity for me to unravel + find clarity within myself. Before meeting Auzar, I was feeling a bit uncertain about the vast multidimensional being that I am, + feeling insecure in being so intuitive + dynamic in my life - I felt that I wouldn't be accepted if I was fully embodied in who I actually am. Throughout engaging with Auzar, I have developed a much deeper sense of self + am clearly able to see when I have strayed from my truth. Auzar has helped me in so many ways, + we've only just begun our journey together! If you are considering working with Auzar in any capacity, I strongly suggest it for she will assist in bringing great clarity, healing, + development of awareness into your life!"
"I am a middle aged woman who has been working with Auzar for about one year on a consistent basis. She's been working with me on my mental and physical health. She has, not only, helped me with my physical health by introducing me to a healthier lifestyle through eating healthier and teaching me how to bring mindfulness in my life, but also, she has awakened my potential. She has brought out the dormant skills in me that have been forgotten throughout the years. I now enjoy doing art in my spare time. I am grateful to Auzar for showing me how to be present in the moment and how to appreciate every situation in my life. Thank you Expansive Yogi. 🙏🦋🙏"
"I originally started working Auzar with the intention to better an unhealthy eating pattern. What I left with after our sessions together was a new found confidence and voice I didn't know existed within me. My eating habits became stable but I feel like a new version of myself who is excited to be healthy, to wake up for breakfast and to live the day with love and joy. Auzar has a penetrating and empathetic energy that can see through any type of wall you may have though you've done a good job at building over the years. It's refreshing but she leaves you room to open up at your own pace, without it feeling forced or rushed. Auzar can see parts of yourself before you can and intuitively builds a map to guide you so that you can grow into the full version of yourself. I thank Auzar for her grace, wisdom and knowledge and could not exaggerate how much I recommend her healing personality to help anyone who is looking for their Truth."